Hamilton, Ontario is known for its steel factories and gritty neighbourhoods, undergoing a recent renaissance. It's also known for its numerous waterfalls including the very popular Webster Falls and Tew Falls.
A few years ago, when I originally wrote about the waterfalls in Hamilton, few Torontonians would have known that they have such beautiful, natural wonders so close by. Since then, Hamilton's tourism efforts and those of many fellow outdoor and travel bloggers, have made the region's waterfalls some of the top weekend destinations for day trips.
Waterfalls in Hamilton: A Top Attraction
The Hamilton, Flamborough, Dundas and Ancaster areas are home to conservation areas and parks with beautiful trails and gorgeous waterfalls. Attracting amateur and professional photographers, nature junkies and anybody who enjoys natural landscapes, the waterfalls are extremely popular.
Webster Falls and Tew Falls in particular are victims of their own success. Parking issues by these falls have resulted in the need for shuttles to and from an off-site parking lot.
The trails here are well connected and include access to Dundas Peak which gives you an amazing view of Dundas and Hamilton.
After a good rainfall, Webster Falls, Tew Falls, Albion Falls and Rock Chapel Falls are worth a visit to see the huge amount of water cascading over the rocks. If you want to do at least one trail, visit Spencer Gorge/Webster's Falls Conservation Area.
While in the past you could climb down to the base of the falls, this is no longer the case. Too many accidents and issues with the trails down to the bottom mean you can't get down there safely. The photo of Webster Falls that you see featured in his post is one that that I took in 2010, when there was a secure trail down to the bottom.
Tips For Visiting the Falls
To make your visit a great one, I'm sharing a few tips and reminders via a mini checklist:
Bring good shoes with treads, particularly in the fall or after a rainy period. There are rocky trails and you don't want to slip or twist your ankles.
Stay to the trails and away from the Niagara Escarpment edge. Many have stepped too close to edge and slipped off to bad injuries and their deaths. Use common sense.
Layer! There's much exploring to do and you will work up a sweat.
Pack not only a bottle of water and snack with you, but also your patience. These falls are packed with visitors and not all know the rules of the trail.
If you want to take photos of the falls, visit during the Fall period for the glorious colour of the trees in the area. Visiting early in the morning means potentially fewer people in your way.
Keep a close eye on your kids, as some parts of the Escarpment trails do not have guardrails.
Check the Conservation Hamilton website for details relating to parking for these two sites.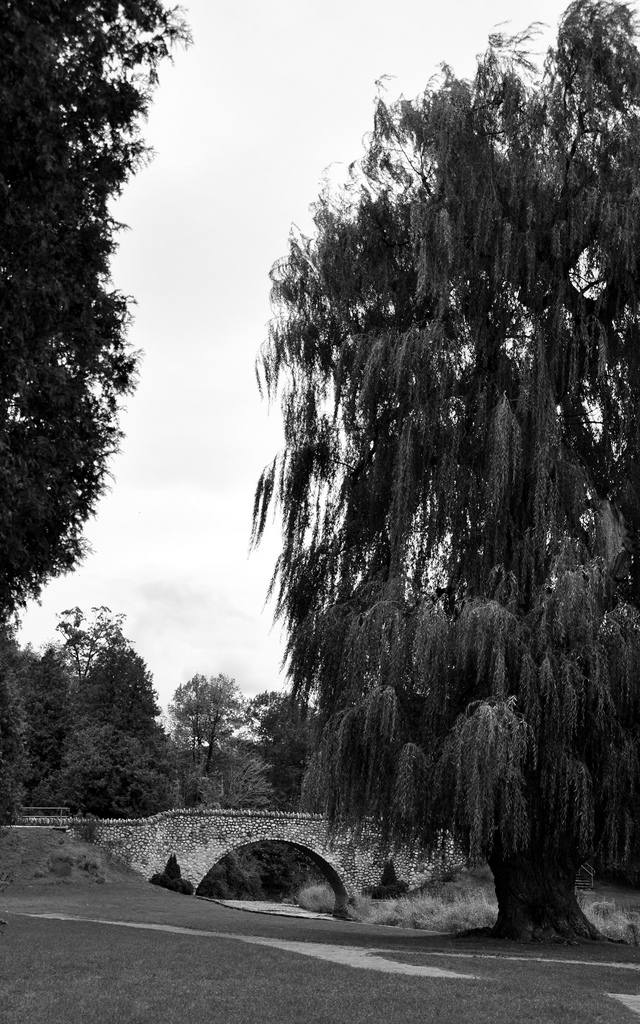 Spectacular Fall Views
During the Fall season, the trees in this area of Ontario are usually brilliantly coloured. For some spectacular views head to Tew Falls which gives you a great view of Hamilton in the distance. The valley and gorge is covered with multi-coloured leaves.
For a quieter hike, head to Rock Chapel Falls. It's not a long hike to get to them. Although Rock Chapel Falls are much smaller than Webster's and Tew Falls, the views of the Hamilton and Dundas Valley region below are breathtaking.
Other Hiking Alternatives In the Area
If you find that the waterfalls are extremely busy, Crooks' Hollow Trail in nearby Flamborough might be a perfect alternative. Quieter than the falls, it's full of history, a run-down mill and the Darnley Cascade.
An alternative in the city is the Hamilton Escarpment rail trail as well as Bayfront Park with a paved trail along the waterfront.
If you're hiking in the area in September, also check out one of the many pick your own apple orchards. Nothing beats a fresh apple from a tree!