I've seen this situation many times over and cringe every time I do. A young woman, stylishly dressed in the season's latest jeans, shorts, top etc. Instead of ankle-supporting hiking boots or at least hiking shoes with treads, on her feet are flimsy flip flops.
It's a hiking disaster waiting to happen, particularly when the trail is muddy, rocky or full of roots and other obstacles. Proper hiking boots for women for hiking trails – no matter how easy or difficult they are – are a must-have in my opinion.
Walking in flip flops for any extended period of time has been deemed to be unhealthy, altering the way you walk and damaging your feet, knees, hips and back. If you don't believe me, read this article by Dr. John Whyte.
This is why I reserve flip flop wearing to only the beach.
For fall and spring hikes, I often see a young woman walking along in suede booties that really should be worn only indoors. My grandma used to wear them to keep her feet warm and because the rubber tread that kept her from slipping on the stairs. They offer no ankle nor arch support for tougher hiking trails. To boot (pun intended), they can easily be pierced by a sharp twig or thorn causing a painful walk back to the car. Not to mention, they don't offer any protection against snake bites. If you didn't think there were any snakes in Ontario, read up on the venomous Eastern Massasauga Rattlesnake. It will make you think twice about what's on your feet!
Proper Footwear for Hiking
Here are tips from Keen Canada:
It's important to stop and think about your specific needs and what you expect from your footwear. Where are you going? How long will you be on your feet per day? Are you carrying a heavy backpack? If you are travelling to a wet climate, consider boots or shoes with a water-proof, breathable membrane. If you are hiking on steep, uneven ground, consider boots with ankle support, a moderate shank system, and aggressive traction.
Fit, fit, fit! Don't just try on the first pair you see and decide that those are the boots for you! You need to try different options with different fits to make sure you have the boot that is best for your own foot. Put on your boots and lace them up – the boot should feel snug, supporting around the ankle, with enough room in the toe-box to let your toes move and stretch without feeling cramped or pinched. Your toes should move, your foot should not. Remember – hours of hiking is tough work for your feet, and by the end of a long day, they will swell. Remember to think about that swelling when you are looking to purchase a new pair of footwear. Try to go shopping at the end of the day, at a time when your feet are normally swollen.
Wear your boots around your house when you get home. Fifteen minutes in a store isn't always enough time to make absolutely certain that you have selected the correct outdoor footwear for your needs. Take your new boots home and wear them around the house for a few hours on a floor that is clean and dry. It is important to test the boot BEFORE you hit the trails, particularly if it's a long hiking trip.
Don't forget about your socks! Many new, inexperienced hikers hit the trails in a classic cotton sport sock. Just like investing in a good pair of boots, you need to invest in an equally good pair of socks to make the best of your outdoor experience – and that includes a merino wool sock. Merino wool does not produce an itchy, coarse feeling. It's also a longer, softer fibre that provides your foot with the temperature regulation you require on the trails, and moves the sweat produced by your foot through the sock and out for your boot to vent. Less moisture means fewer blisters; fewer blisters mean happier, more enjoyable hikes!
I personally enjoy wearing Keen footwear because they fit so comfortably on our feet. Here are three different Keen hiking shoes and boots that are new for this season: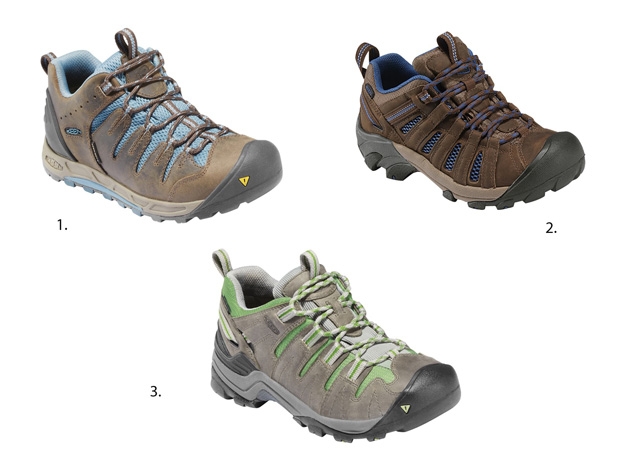 1. Keen Bryce WP – $150.00 A light waterproof hiking boot that's ideal for any adventure.
2. Keen Voyageur Shoe – $130.00 Mesh lining for more continual airflow – good for rougher terrain.
3. Keen Gypsum – $160.00 Lightweight hiker great for hiking.
My last piece of advice – don't skimp on the choosing the right footwear for hiking trails. Go for women's boots over men's, unless you have super-large feet. Choosing the right boots can save you from lots of pain from blisters, sprained ankles and back pain. Invest in a quality pair of hiking boots that work with your usual activities and you will have a great time on long walks and hikes.
Ladies – what are your favourite hiking boots for women? Which brands do you like?