Fellow coffee addicts – do you often wish you could make a coffee that tastes like something served in a high-end restaurant? I have found a way to make it with the Melitta Pour Over Coffee Brewer.
Coffee is something I have to have daily. I even love the scent of freshly ground coffee. I've never made coffee this way, so I was interested to see how it would work. Normally I'm a coffee machine or French Press kind of gal. On busy days, it's sometimes easier to make an instant coffee.
Gasp! Oh the horror! Remember, I'm a mom to a one year old, so I can be excused for instant coffee. However, after trying out the Melitta coffee brewer, I'm now a pour-over convert.
My Top 5 Reasons to Love Melitta Pour-Over Coffee Brewer
We tested the Melitta Pour Over Coffee Brewer with Melitta Dark Roast after Sunday lunch. Perfect timing to try it out as the tryptophan in the turkey I ate was starting to kick in. Baby B was fussing up and ready for a nap, and so was I.
We tried out both the red brewing cone and the porcelain version with Melitta Dark Roast Coffee.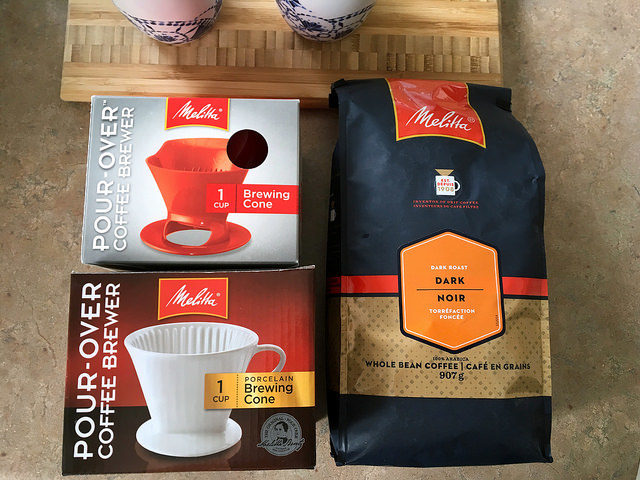 While Melitta's porcelain pour over cone is great at keeping the coffee warm and covered while the coffee drips in, there is no window to see how much you've poured in. The red plastic cone version has a little window, so you can see when you need to stop pouring hot water.
Both were great for a few key reasons:
It's convenient with fast preparation using the filter, ground coffee and boiling water: coffee is ready in a matter of two minutes. Try it with a travel mug before heading out for the day.
It's an easy way to make a quality cup of coffee for yourself or for a guest without the hassle of setting up a coffee machine or the messy clean-up after a French Press.
It's a safe way to make a good cup of quality compared to a French Press (glass can break with too much pressure from the plunger etc.)
There's very little to clean-up afterwards. The grinds and filter are recycled and the cone rinsed.
It doesn't take up much room. If you're living in a small condo or are inundated with baby bottles like we are, the Melitta Pour Over Coffee Brewer doesn't take up much space in your cupboard.
Yummy Melitta Dark Roast Coffee
We tried out the pour over coffee brewers using Melitta Dark Roast Coffee. Although I normally shy away from dark roasts, this one was very good. Full-bodied, great taste – just like in a high-end restaurant. And now we come full circle. The coffee made with the pour-over brewer makes for one delicious cup of joe.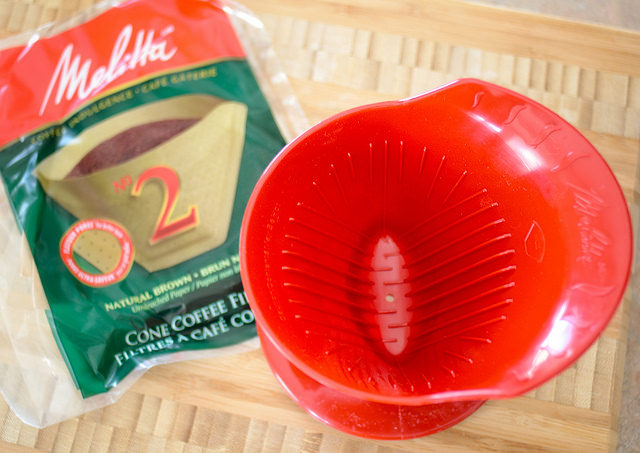 So my fellow coffee lovers, if you haven't tried the pour over coffee method, I recommend you try it at least once. It may change your approach to making coffee forever.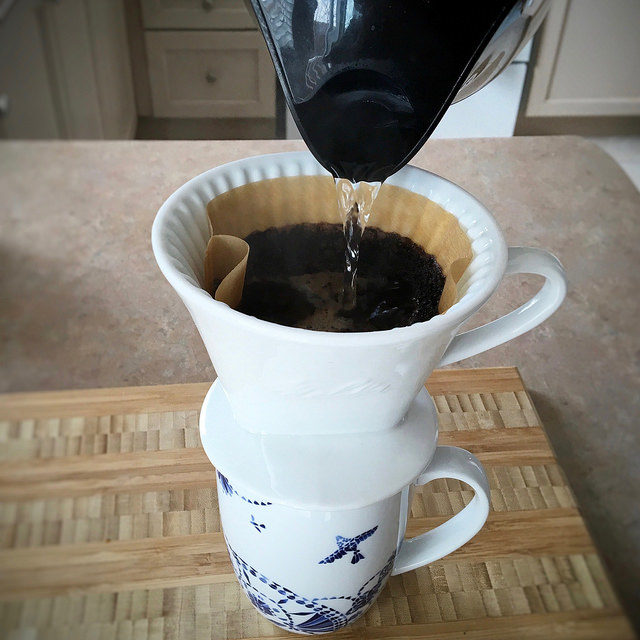 Preparation Tips
Preparing your coffee with the pour over brewer is very easy.
1. Grind coffee beans.
2. Boil water.
3. Set up the coffee brewer over a cup or travel mug. Place the cone-shaped filter inside the coffee brewer. Add 2 tablespoons of the ground coffee.
4. Pour boiling water into the brewer, letting the water drip through into the cup before pouring more until the cup is full.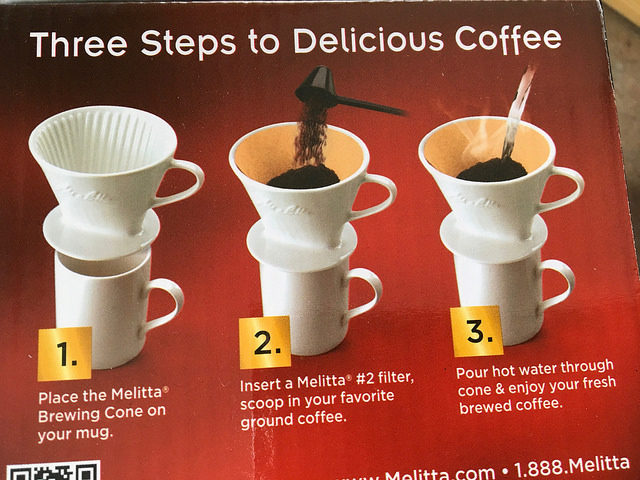 Although some like to load up their coffee with sugar, I like mine without. It lets me enjoys the true flavour of the coffee – just like a fine wine. Drinking it this way also gives me license to enjoy a cookie or small pastry!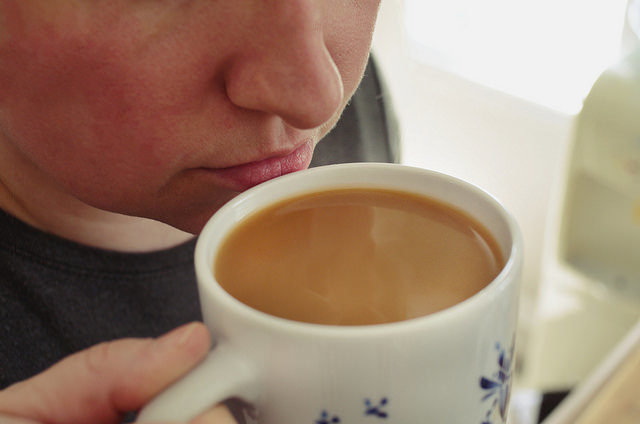 Availability and Price
The Melitta Pour Over Coffee Brewer (plastic version) is available at Canadian Tire, Home Hardware, Walmart and Amazon.ca at $6.01 and the porcelain version is available at Amazon.ca at $30.75. The Melitta Dark Roast coffee is sold in most major grocery stores in Canada.
Check out the Melitta Canada website for more information and follow on the Melitta Canada Facebook page.
Disclaimer: I received sample coffee brewers and coffee to try out. No other compensation was provided. All thoughts in this post are based on my personal experience trying out the pour over coffee brewer.
What is your favourite way to brew coffee? Why?