Way back before I invested in a Nikon D90 and some good lenses, I was taking photos with point and shoot cameras – first a Canon PowerShot A85 and more recently with a Panasonic Lumix DMC-FX500. The cameras were good for their time and for my purposes – mostly taking photos to share with family members. But how do go about making travel photos look great?
Like with many who learn on their own, over the years I've read up on composition, lighting, exposure and so on. Post-processing using Adobe Photoshop and Adobe Bridge has been something that I've only started exploring in the past year. I'm still a work in progress when it comes to my photos.
Recently I've begun to revisit my old photo and have tweaked them to be more dramatic, vibrant or to emphasize a mood that I'm trying to create. Cropping photos has also helped fix composition flaws that I had no clue I was making a few years ago when snapping photos without thinking.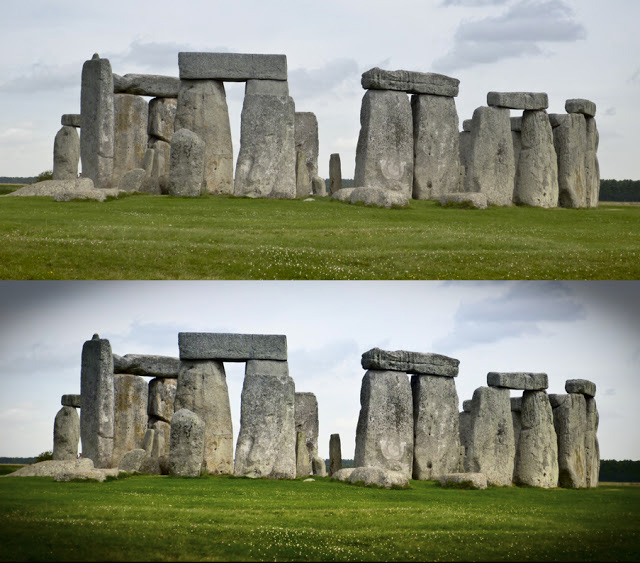 The above photo of Stonehenge is an example of the before and after. Cropping wasn't needed but a few fixes were needed to make it more dramatic, fitting the scene.
Do you wish you could fix up photos from your travels and adventures? Here are a few of my tips for making travel photos look great that may help you get started:
Learn from experts – read up on tips & tricks
There are many books out there that help amateur, intermediate and even pro photographers learn cool techniques using photo editing software to create visually stunning photos.
My favourite, for its ease of use, photos and step-by-step approach The Adobe Photoshop CS5 Book for Digital Photographers
by Scott Kelby. You can purchase books by him for previous versions of Photoshop as well.
Note: look to read books that focus on editing jpegs, rather than RAW or other format photos as there are differences. With point & shoot photos, you mostly get jpeg formats.
Experiment as you learn
It's not enough to just read about ways of editing and processing photos… you must also do it. Taking a photo that you know is underexposed and looks dull in colour, you can learn how to enhance it so that it looks like a pro photo. Sometimes you can create a completely different mood with a photo by using filters and other colour processes. For example, making a photo look vintage by changing colours.
Follow photography blogs and websites
I'm not talking about following the blogs and portfolio sites of photographers (although this is a good practice too). Rather I'm talking about educational photo websites that share information on how to take good photos. These sites also often talk about post-processing and editing. One of the best blogs/websites is Digital Photography School.
Follow cool photographers on Flickr or other photo sites
Getting inspiration can come from following others. My favourite places to learn and see what people are doing with photos are the free sharing sites, Flickr and 500px.com.
Check out groups in Flickr such as Before/After, which allows you to read up on what people did to improve their photos.
Experiment on your own
Once you've had a chance to learn a bit about rules of composition (and breaking them), light and colour, don't be afraid to explore what you can do with the software you have – whether it's Adobe Photoshop, Lightroom or anything else. See what you can do with what you have to make your photos worthy of blowing up and printing for framing.
My Progress
To check out some of the photos that I've touched up head over to my "New Look for Old Photos" set on Flickr. It's a work in progress and there are only a few photos in the set right now, but check back often!
While you are at it, if you also post photos on Flickr, add me as a contact.
Here's another photo that was fixed up recently:
[divider]
What are your tips to make travel photos look great?