(Note: Rockhounding in Bancroft is a well-known activity. However, the Bear Lake site mentioned in this post is now apparently private property and not open to public digging. There are new details about a geologist-led gem hunting tour held in July and August each year, led by the Bancroft Chamber of Commerce. The post below is based on our 2011 experience. )
Remember when you were a kid, and you found a shining, metallic rock, thinking you had really struck it rich with a piece of gold? If your parents were kind, they would let you think for a little while that you had found something precious. If parents were realists, like my dad, you would quickly learn "It's not real, it's fool's gold."
Even though I was disappointed that I hadn't found gold, I still thought it was cool to find a rock that looked so much different than standard limestone or granite.
Finding Treasure in the Ground
Imagine my joy when I found not only fool's gold in Bancroft, Ontario but also pretty impressive pieces of mica, apatite, rose quartz and white quartz. I felt the same joy as I did when I was a kid – the "WOW, look at these cool rocks" moment. Finding a different, exotic-looking rock has its own thrill.
My husband Frank and I had taken a trip up to Bancroft, known also as the "Mineral Capital of Canada".
Rockhounding in Bancroft is one of the most popular activities in the region. We visited two mines: the Princess Sodalite Mine, and the Bear Lake Diggings area.
The Princess Sodalite Mine is where you can find the local sodalite, as well as other minerals shipped into the area and left into a large rock pile for you to sift through. The Bear Lake Diggings site is more realistic with open trenches in the woods. The ground rich in mica, biotite, apatite, titanite, and hornblende. The easiest to spot is the mica which litters the ground in many of the trails in this area.
Princess Sodalite Mine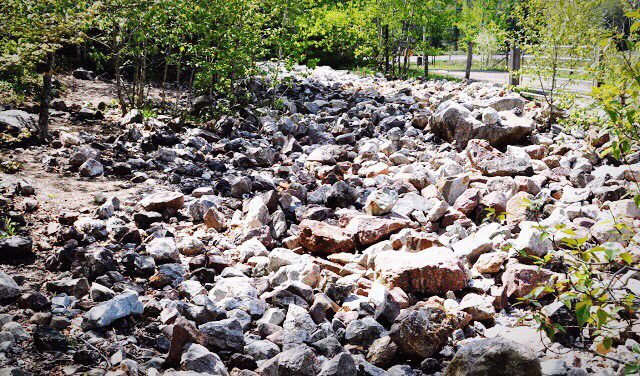 For anybody who just wants a taste of rockhounding, the rock farm at Princess Sodalite Mine is a good start. It's easy to find cool rocks here – from sodalite, white quartz and rose quartz.
Whatever you find and want to take with you costs approximately a $1 per pound of rocks you take with you, is a good start. It's easy and all you need to ensure you have with you is a good pair of covered shoes or boots as you can get hurt if you twist your ankle on one of the rocks.
One thing to remember at the rock farm – don't throw any rocks! I found a core sample of granite and wanted to show Frank, who was about 10 metres away. I just finished saying, "Hey Frank, take a look at this!" when I threw the core sample about 5 metres, and it bounced to hit poor Frank right in the shin on his left leg. It caused quite a bit of pain, a bump and broken skin.
My reaction was to do a great Lucille Ball impersonation, "Oooohhhh Frankie!!!! I'm so soooorrreeeee!". Lucky that I have a boyfriend who is so forgiving. Needless to say, his leg was feeling sore for a few days afterwards.
The Princess Sodalite Mine and Rock Shop is owned and operated by geologist Andy Christie. He's a talkative gentleman with a strong Scottish burr and love of anything to do with rocks. In his shop you can purchase sodalite jewelry, rocks and minerals from around the world, and other rock-related memorabilia.
Directions: Take Highway 28 east of Bancroft for about 4 km and you will see the Princess Sodalite Mine and Rock Shop on the north side (left) of the road.
Bear Lake Diggings
Located about 50 km west of Bancroft, near Tory Hill, Bear Lake Diggings is a rockhound's dream. It means making sure you have all the necessary gear, good boots, and bug spray (to deter all the mosquitoes, deer flies and black flies that love fresh blood) and patience.
The most important thing you need is the permit to collect the rocks. Otherwise you will be charged for trespassing. To get the permit ($11.30), head into Bancroft first and visit the friendly and informative ladies working at the Chamber of Commerce (12B Flint Avenue). Here you can also purchase information booklets on the local mines and diggings.
What You Need To Take With You
Aside from the boots and bug spray, when you're rockhounding in Bancroft you need to bring a few other things.
First aid kit
Lunch and lots to drink (digging will work up a sweat)
Practical outdoor clothing: long pants, long-sleeved shirt, a hat and safety boots ideally
Rain gear – just in case there's any rain in the forecast
Insect repellent
Safety glasses or goggles
A rock hammer or a chisel
Small shovel
Sample bags or buckets
Penknife
Magnet
Compass
Local topographical maps
Pen or pencil
Notebook
For our visit, we didn't have most of these items. It was a quick in and out visit to to check out the site, pick a few rocks and avoid being eaten by mosquitoes.
Nevertheless, for those who are prepared, the Bear Lake Diggings site can be very fruitful in findings. We found both black and white mica here, and apatite.
Directions: Get the precise locations from the Bancroft Chamber of Commerce. The digging site is located in a remote area reachable via side roads.
Whether you are a newbie like me, or a pro, rockhounding in Bancroft is fun. Anytime I can play in the dirt and find treasures, I'm there!
Bancroft is not far from Algonquin Park. If you're making a day of exploring the region, take the highway across the park for beautiful views.