Getting a dose of nature away from Toronto, Ontario does not require hours on the road. At most two to two-and-a-half hours are needed to get to great camping sites near Toronto.
We've either camped or hiked in many provincial parks or conservation areas in Southern Ontario with campgrounds over the years and love that they aren't too far from home.
In 2011, I wrote on the top five beaches in Ontario… the interest in this list has been phenomenal. However, there are also been searches for the best campgrounds and campsites in Ontario.
To make it easier to decide where you want to camp this year, we've pulled together a list of what we consider the best campgrounds that are about two hours from Toronto, along with distances so you can plan according to your preferences.
40 minutes from downtown Toronto
Nestled in between Oakville and Burlington, Ontario, Bronte Provincial Park is a short trip westwards on the Gardiner Expressway and QEW. It offers many hiking trails, a small animal farm (including some beautiful peacocks) and campsites.
Camping here is almost like glamping – if you need to get to a grocery store, you've got one just south on Burloak Drive (Longos). While you may get a few racoons and coyotes sniffing around for food, the good news is you most likely won't encounter a bear. This is one of the few campgrounds in Ontario that is so close to major urban centres.
Tip: This is a great place to camp for the first time with little kids who may be unaccustomed to being outdoors overnight. It's close enough that you can pack up and head home if the need arises. As well, it's close to major hospitals and walk-in centres in case of a health emergency.
One hour from downtown Toronto
Viewing the city of Toronto from the cliffs of the escarpment can be spectacular. Camping at Rattlesnake brings you into nature, yet, still close to civilization. Located on the Niagara Escarpment, Rattlesnake Point offers hours of hiking trails, five scenic lookouts and limestone cliffs for rockclimbing.
Group camping is available – check out the Halton Conservation website for details. It's best to call in advance to confirm your site and your camping needs.
Your camping reservation will also get you into several other Conservation Halton areas in and around this region.
One hour, 30 minutes from downtown Toronto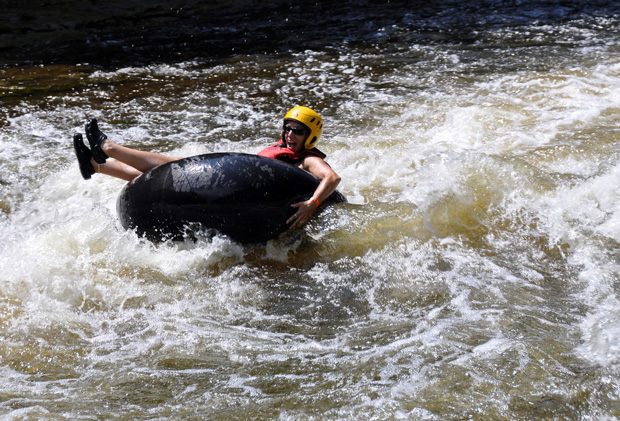 With a mix of serviced and unserviced sites (with water), you can both rough it and "semi-glamp" at Elora Gorge Conservation Area. Part of the Grand River valley, the Elora Gorge offers beautiful views from trails along the 22 metre high cliffs.
You can kayak or tube down the river. The nearby town of Elora is picture-perfect, particularly during the early morning hours. Visit the camping reservation page on the Grand River Conservation Area to book a site.
Nearby is the small, pretty town of Elora, Ontario which on a weekend morning is a quiet spot to take beautiful photos of the colourful storefronts without people blocking the view, as well as a still Grand River with amazing reflections.
2 hours 15 minutes from downtown Toronto
Located on Lake Erie's north shore, this wooded provincial park takes you away from the busy traffic of cottage country. For golfers, it is the only provincial park with a golf course.
The area has flowers and plants that rarely grow this far north.You are most likely to encounter turkeys rather than coyotes as approximately 8,500 are said to be in the area… hence the name, Turkey Point.
A beach area along Lake Erie gives you a chance to dip your toes on a hot day. Book your campsite easily online through the Ontario Parks reservation page.
2-1/2 hours from downtown Toronto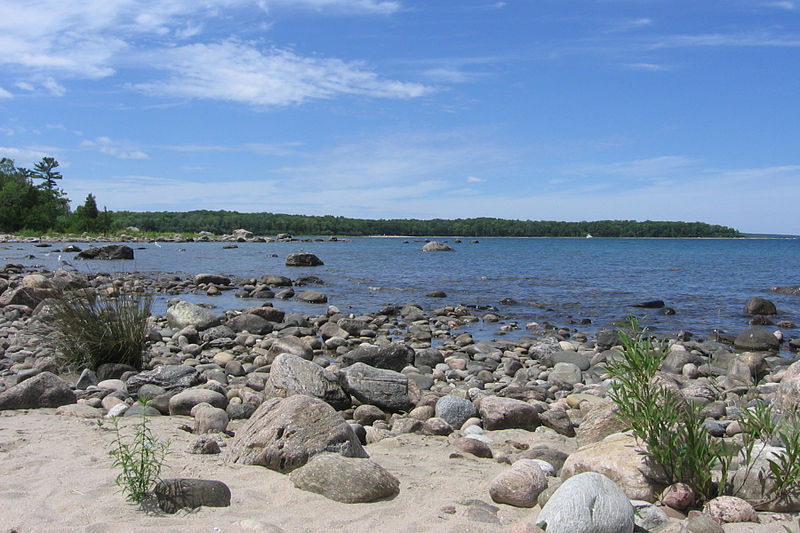 Located on the shores of Georgian Bay, near Penetanguishine, Ontario, Awenda is located in a history-rich area. Nearby Midland is the site of one of the first Catholic missions in the "New World" with Sainte-Marie Among The Hurons, a reconstructed 16th century Huron village) and Martyrs' Shrine, which honours the eight Jesuit saints who served the community and died here for their faith more than 380 years ago.
Martyrs' Shrine is a church set on top of a hill surrounded by peaceful woods – a great spot to pause, meditate and perhaps say a prayer, if you are so inclined.
Penetanguishine has its own equally historic Discovery Harbour – a reconstructed early 19th century community for British naval and military forces. Awenda Provincial Park itself has numerous trails, sites for swimming and exploring.
Book your campsite easily online through the Ontario Parks reservation page.
TIP: Planning for a long weekend camping experience usually happens as soon as spring hits. This is the time to get the best campsites in Ontario booked before they snapped up. The closer you get to your planned camping dates, the less likely you will get good sites that aren't close to the toilets.
Tip #2: Not all campgrounds are the same. Some require registering in advance and are for group camping only.
Additional campground resources for places close to the GTA that you may want to check out:
Ontario Parks: www.ontarioparks.com
Conservation Halton: www.conservationhalton.ca
Grand River Conservation Authority: www.grandriver.ca
Kawartha Conservation (Ken Reid Conservation Area – group camping): www.kawarthaconservation.com/conservation_areas
For places further away read our posts on places with camping:
Bruce Peninsula National Park in Tobermory
Killarney Provincial Park
Killbear Provincial Park (our favourite to date)
If you have any other recommendations for great campsites close to Toronto, let us know!