It had been many years since I've gone hiking at Forks of the Credit River Provincial Park. Located in the Caledon, Ontario area, the park is one of the largest natural areas open to the public in the region.
Usually head to our favourite hiking trails at Starkey Hill in the early spring. The trail there is short and a good workout. However this time, my husband Frank and I decided to take a quick hike through the Forks of the Credit River on an early spring day.
While the landscape at this time of the year is still dull, grey and devoid of any vibrant colour, it's still worth visiting for a bit of exercise.
Spring Hiking at Forks of the Credit River
Anybody who hibernated through most of the winter (like me), may want to skip a hike at this park until they've built up their endurance. Forks of the Credit River has many hills including a few "Heartbreak Ridges."
I was feeling really out of shape during my first hike of the season. In comparison to the seniors hiking team that we passed on the trails, I was winded. Don't judge!
This is a moderate hike at this time of the year, requiring enough stamina to deal with the hills and the mud. One poor gal who ventured onto the trail just as we were leaving it was walking in wearing Ugg suede boots with no support or treads. Boy was she in for a surprise!
Muddy Trails Everywhere
The trails are extremely muddy at this time of the year. You will need to walk off the trail at times to avoid getting your feet in mud past your ankles.
Proper footwear with good treads is needed for going down the hills. You don't want to slide down on your bottom in these conditions! My poor hiking boots were covered in mud after a few minutes of walking the trails.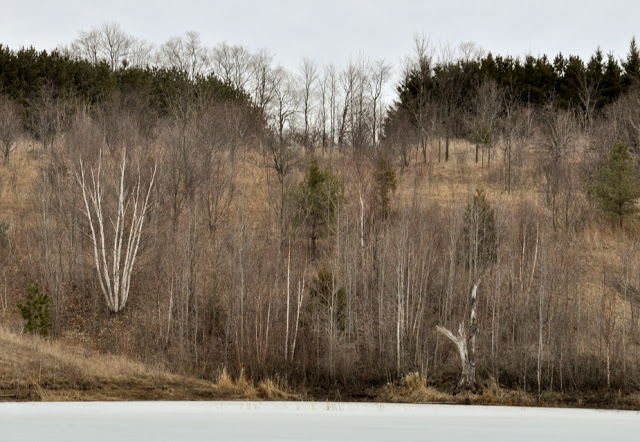 If you've got the time and energy, it's worth taking a long hike to where the actual forks of the Credit River are located.
The location is quite a distance away from the parking lot, so plan for a few hours of walking. We didn't get to this area this time around, but from past experience, it's a beautiful spot.
Location:
About 24 km northwest of Brampton. Go up Highway 10 (Hurontario St.) to Forks of the Credit River, and follow through until you reach McLaren Road and the turn north. The Park entrance will be on the left (west) side.