One of the things that I love about my husband Frank, is his love of spending time outdoors. He considers romantic hiking trips an ideal date.
For him, walking in the woods with me is a way of re-balancing his life after a busy work week.
This love of the outdoors is one we share and are introducing to our little son. I think it's this shared enjoyment of hiking and camping is what makes our relationship great.
Romantic Hiking Dates: Perfect to Get to Know One-Another
Prior to getting married, Frank wooed and romanced me through conversations while hiking. We would visit our local conservation areas such as Crawford Lake Conservation Area, Hilton Falls and many others in Southern Ontario.
Frank would surprise me with a mystery destination paired with a surprise delicious snack. Hiking is a cheap date idea but it also is one rich in time together without distractions. During our dates we would talk, learn about each other and truly spend quality time together.
We'd often see other couples walking the trails, hand-in-hand, flirting and having fun. Getting outdoors is conducive to romance!
Romantic Hiking Ideas for Valentine's Day
A hiking date makes for a romantic Valentine's Day as well!
Preston Ciere from Portageur.ca posted this romantic Valentine's Day idea on Facebook: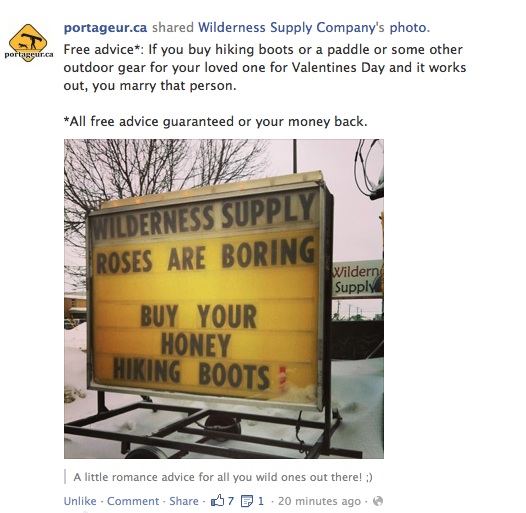 It made me chuckle.
While hiking boots may not be overly romantic as a gift, pairing them with a day spent on a trail with hot chocolate will do the trick.
Other ideas for romantic hiking on Valentine's Day:
Look into moonlight snowshoeing events at local conservation areas and parks. If there's no snow, you get to hike under the moonlight instead.
Pack a picnic! Who said that picnics are only for summertime? Pack a small insulated "cooler" with some warm foods such as mac 'n cheese or pasta, and place a heated up Magic Bag or several hand warmers inside to keep warm. An alternative is a insulated thermos with warm soup paired with toast or crackers. Find a spot not too far from your car for your picnic. Bring a few extra garbage bags to use to protect your bottom from ice and snow. Once fueled up, enjoy your walk.
From Preston of Portageur.ca: "The gift of spending time together usually goes over well. One activity that comes to mind is finding a trail that passes by a quaint little village. If some research is done, you can find several "rail-trail" types that pass right into the town. Once in town you can sit, rest and get a nice warm coffee or hot chocolate. Depending on the town you can also find a nice restaurant, which you can turn a "nice walk on the trail" gift into a surprise romantic dinner. The walk back to the car should go over well if you've done it right. Added bonus is to use the rail trail that leads to Paris – even if it's just Paris, Ontario. (Actually, Paris, Ontario has some great coffee shops and restaurants with a range of fanciness.)"
Do some exploring together by going on a day trip. For my fellow Southern Ontario residents, you can do day trips from Toronto in the winter too. Choose a destination, gas up the car, pack your winter hiking boots, grab a cup of coffee and hit the road with your love. Waterfalls in the Hamilton area are spectacular when ice covered (Tiffany Falls comes to mind). North of Toronto, check out Inglis Falls in the winter for a spectacular view.
Plan to propose while hiking? Don't forget to bring your phone or camera to snap a photo. Choose a hiking trail that's close by so that you can come back often and remember the moment.
There are many more romantic hiking tips and Valentine's Day ideas (both outdoor and indoor) that I've explored in other posts. The most important thing is to come prepared and then enjoy time with your sweetheart.
[divider]
Wishing you a love-filled Valentine's Day!