While many think winter is a good time to cocoon at home like a hibernating bear, others head to the trails for a breath of fresh air and a chance to reduce the effects of "cabin fever".
Many of Ontario's conservation areas, parks and rail and shoreline trails offer a perfect chance to stretch one's legs – all you need is a good pair of winter boots with deep treads, a thermos full of something warm and nourishing, and perhaps your camera for fun winter shots.
Here are three hiking trails near Barrie that can be enjoyed during the winter:
Mono Cliffs Provincial Park
Located southwest of Barrie, Mono Cliffs Provincial Park is part of the Niagara Escarpment. The park is good for hiking at any time of the year, including the winter. As it's considered a fragile environment and includes rocky sections, keeping to the trails is not only good for preserving the area but also you from twisted ankles.
If you stand still for a moment at Mono Cliffs all you will hear is the rush of the wind against the fir trees and winter birds.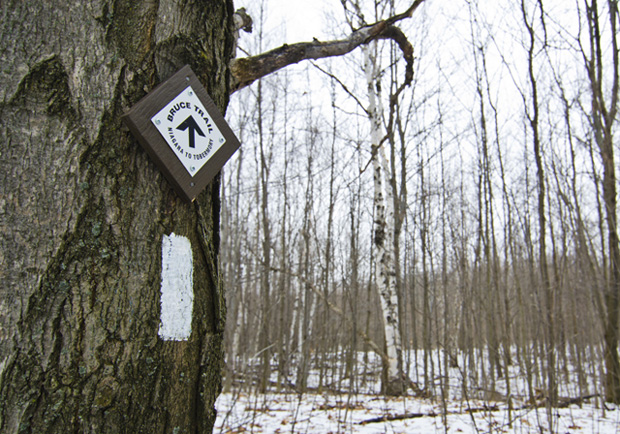 This park is located in a fairly isolated area. Cell phone reception isn't the best, so make sure to have a hiking partner and inform others as to your whereabouts, just in case!
Wasaga Beach
While you may enjoy Wasaga Beach in the summer, it's also a spot to visit in the winter. The flat sands may be covered with snow, but the 14 kilometers of shoreline give you several hours of easy walking (or cross-country skiing, if that's your preferred winter activity) without too many inclines.
Should there be fresh snow, bring your camera along for simple but beautiful photos of a shoreline blanketed in white.
Waterfront Trail Along Kempenfelt Bay
Don't feel like going too far to hike? The 6.7 kilometers of flat, paved trail along Kempenfelt Bay is close to downtown Barrie. While it may not offer the same serenity found in the desolate stretch of Wasaga Beach in the winter or the quiet of Mono Cliffs Provincial Park, any kind of walk in the winter is worth it.
You can scope out areas and parks that hug the shoreline without the numerous crowds found during the summer period.
Tips For Winter Hikes

Always dress in layers and it never hurts to overdress – you can always peel off layers should you get too warm, but nothing will save your head and hands from the wind chill if you don't bring your hat and a good pair of warm gloves.
No matter what kind of surface you are walking on, be it a natural trail, sand or paved trail, always wear proper winter boots with good treads and ankle support. Slipping on an icy patch can easily result in a twisted, sprained or broken ankle.
Bring a light knapsack containing something warm to drink; a snack; charged up cell phone; extra pair of mittens/gloves in case yours get wet and chilled from playing with the snow and birdseed to feed chickadees and other winter birds.
Most of all – enjoy the snow and winter!
[divider]
This blog post was shared on the Harmony Village Facebook page – Like it on Facebook to find other great lifestyle posts and learn more about Harmony Village, including the new development on Lake Simcoe.