I was provided a sample for this post, along with accessories. All opinions below are based on my experience.
There's nothing worse than blinding light reflecting off my iPad screen when I'm trying to read a book outside. It leads to eye-strain and inevitably a migraine headache. Amazon's Kindle is the glare-free solution. After testing it out for a few weeks in various natural light conditions, I think the light, LED-lit Kindle Paperwhite is the best e-reader for outdoor reading.
I received the device from Amazon.ca's with the mission to try it out while enjoying outdoor activities such as camping or hiking. As every weekend day that we've had available was a rain out, I headed to my backyard deck on one semi-sunny day to try out the unit. With a beverage in one hand and the Kindle Paperwhite in my other hand, I enjoyed catching up on a favourite paranormal fantasy series by Karen Marie Moning.
Testing It Out
At first, I was very curious to see how it would compare to my beloved Apple iPad. I love my iBooks but after reading using the Kindle Paperwhite at various times of the day (morning light on the deck with a coffee; mid-day light with a club soda and lime; evening setting sun with a glass of wine… what can I say, books and a drink go well together), I can say I'm a convert.
As it's so light and easily portable, I can take the Kindle Paperwhite with me any time I'm planning on reading outside.
A well-known fact among my family and friends is that I'm a voracious reader. A little less known fact is that when I'm camping or enjoying a chill-out time at a conservation area or park, I like to relax with a good book. Lugging around a book in my knapsack isn't always fun! Consider the heavy DSLR camera I've got with me, the heavy water bottle etc. Now that we have Baby B, I'm also bringing along diapers, wipes and sippy cups.
The weight adds up. So when I can pack a light e-reader in my bag, it's amazing!
The only things that I found a bit daunting about the Kindle Paperwhite was the set-up and the numerous settings that I could adjust to my liking. As well, I'm used to having the screen brightness self-adjust (I'm spoiled with my iPad), so manually adjusting it is a slight inconvenience.
Why the Kindle Paperwhite is the Best E-Reader
I spent a good few weeks testing out the Kindle Paperwhite 4th generation (released in 2017, with Wi-Fi and free 3G capabilities $209.99 CAD). For a touch-screen e-reader, it's compact and full of goodies.
Long battery life. Hooray! As soon as I received the Kindle Paperwhite, I charged it up completely. Even after reading on a regular basis for an hour each evening for two weeks, my battery indicator is still at half. Awesome! It should last about a month without needing a charge-up. Imagine going camping for a week and not having to worry about re-charging your Kindle Paperwhite until you've returned home!
No glare = no eye strain. I also spent time reading it in the full sun (with a glass of rose wine… reading and wine go so nicely together, don't you think?). Absolutely no glare from the screen which means no eye strain either! With an iPad, you have to crank up the brightness which can drain the battery quickly. Not so with the Kindle Paperwhite. I also like how you can change the brightness of the screen from the easily accessible Settings button on the main navigation ribbon.
High resolution.The font is crisp at a higher resolution of 300 ppi. It's very similar to the quality you get when you're reading an actual book.
6′ size and light weight. What's also great about the Kindle Paperwhite is the size. It fits comfortably in my one hand (so the other hand can hold a water bottle or even better, a glass of rose) and it's light. As I mentioned before, slipping it into a bag or knapsack to take with you is no hassle.
Access to thousands of books. Easily download books from the Kindle Store either via Wi-Fi or the 3G network (for free). You can also connect with your Goodreads account to get user reviews and access to a large community of fellow readers. If you're camping and there's 3G, you can download a new book without any issues.
No Distraction Reading
One of the other reasons why I think the Kindle Paperwhite is the best e-reader is that you focus on what you're reading and nothing else.
For the first few days, what I did find disconcerting about it is that I was missing some of the features of the iPad. It doesn't have a full, colour internet browser or other apps. There are no notifications that pop up to distract me from my reading.
It's strictly focused on giving you the best reading experience. After a while, I found myself fully immersed in my book and that was a VERY GOOD THING. I tuned out all social media and focused on the words.
Kindle Paperwhite Accessories
I also had a chance to check out the Kindle Paperwhite leather cover ($39.99). It's a snug case with a material inside cover that protects the screen. For me, a cover is a no-brainer. You don't want to damage your Kindle, and it also keeps your greasy fingerprints from transferring to the e-reader's back cover.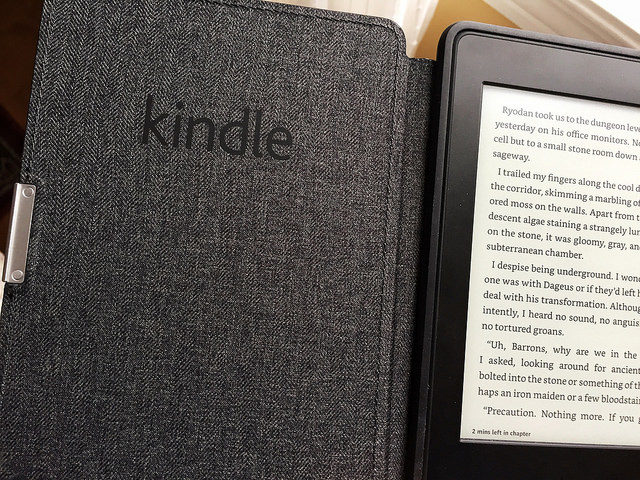 While the battery life is long, if you're going on a long trip, a rechargeable battery back-up is needed. Amazon supplied me with a Anker battery pack ($19.99) which did a fantastic job of keeping the battery topped up.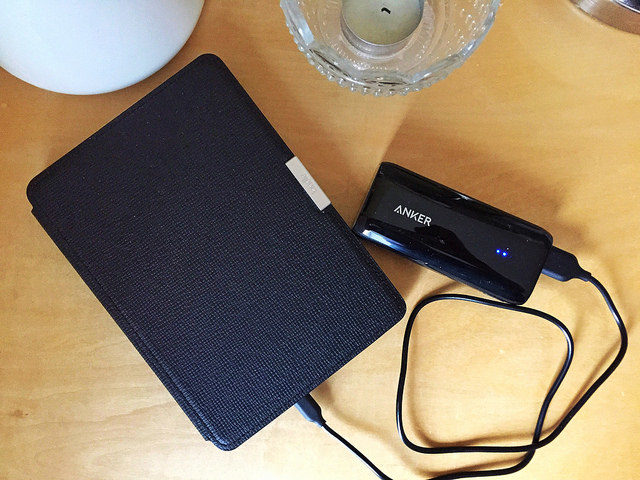 I'd consider gifting somebody who loves to read with a Kindle Paperwhite. It also comes in a WiFi-only version ($139.99).
Now, back to reading I go!