If you happen to drive by a Polish church during Easter weekend, you may see much activity. The traditional blessing of the Polish Easter Basket happens on the Saturday before Easter Sunday, when foods are blessed with holy water.
Ever since I received my driver's license, I've been driving over to the local Polish church to get the family's Easter Basket blessed. Our basket always contained hard boiled eggs, a little Easter "babka", ham, kielbasa, bread, salt, butter, cheese and horseradish.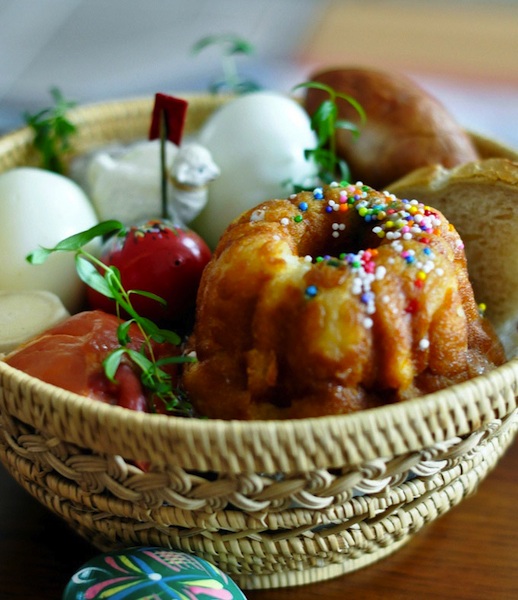 A tip for those in Toronto: the best place to find authentic kielbasa and Polish-style ham is the many Polish deli shops that are found in the greater Toronto area. If you head to Starsky's, make sure you get there early in the morning to beat the crowds.
Polish Easter Tradition
Keeping the tradition alive in Canada has been of great importance to the Polish community. Usually the blessing takes place in the church hall, with long tables set up for people to place their baskets.
Polish girl and boy scouts, or the parish's altar servers assist the priest or deacon in the blessing.
The food is eaten the next day after Easter Sunday mass. My family usually has the food at breakfast as we have always gone for the earliest morning "Resurrection Mass" (7 a.m.!).
For some unknown reason the food always tastes so great. Perhaps because it's blessed, or maybe because we are so hungry!
The Polish Easter Basket is a delicious tradition – if you celebrate Easter, what are your traditions? I'd like to hear about them.
Wishing everybody a Happy Easter… Smazcnego Jajka!