Day six of our UK Honeymoon started off very early. We were doing a two-day tour of the Scottish Highlands (with an overnight stay, for two people – £ 230.00 GBP = approximately $350 CDN). Day one included the bus tour from Edinburgh to Loch Ness. With our overnight backpacks on our shoulders, we were heading to the meeting point for the Highland Experience Tours, located in the heart of Edinburgh, by Parliament Square.
The Highland Experience Tours office is located in a Caffè Nero coffee shop, which in my opinion is the best combination. For those who are eagerly waiting the bus tour to start, they can grab a delicious coffee made my a barista and a mouthwatering toasted panini-style sandwich. I fell in love with the coffee and Vine Tomato, Mozzarella & Basil panini at this cafe… is there any way we can import this European chain into Canada? It would give Starbucks, Second Cup and Tim Horton's a run for their money. But enough about yummy panini sandwiches. Onto the tour!
Our bus arrived on schedule and we were off on our grand Scottish tour of the highlands in a matter of minutes. Bob, our driver, with his Glasgow accent, was immediately welcoming and very informative about what we were seeing and the background history and facts that made it all so interesting. He also had some toe-tapping Scottish tunes playing throughout the two days.
First was a brief stop at the famous bridges at Firth of Forth – including the Forth Bridge, a railway bridge. It was the first major structure in Britain to be made of steel.
Stirling Castle where we got to step out of the bus, stretch our legs and take in the view of the scenery before us. Stirling Castle is one of the largest castles in Scotland, having its origins from the 12th century. For the sake of time, we didn't tour the actual castle itself. We're putting a future visit to Stirling Castle on our bucket list.
The view from the parking lot, looking east, had us looking at Dumyat, a large hill that include the Wallace Monument. Yes, that Wallace – THE William Wallace of Braveheart fame. It was at the nearby Stirling Bridge that William Wallace and the Scots battled the English and won.
What made Dumyat so interesting to me and Frank was that my father-in-law had stayed in the nearby town of Alloa in the 1960s and had climbed this hill as a spry 20-something. He had fond memories and often tells us how he enjoyed his hikes here. I've shared this photo with him and he now uses it as a desktop wallpaper.
Up until this point, the bus tour was progressing nicely. Other participants were quiet, carefully listening to what our tour guide was saying… with the exception of one misguided woman who told him to stop saying so much about the background history (hello – this is a tour, of course he's going to tell you facts, so you can learn as you go… isn't this the point of it after all?).
The next part of our tour, became pretty unbearbable due to the addition of eight Southeast Asian guys in their 20s/early 30s who were loud and talkative throughout the whole trip. I won't go into all the details here, but you can read more about their lack of tour bus etiquette in my past post.
We continued on, passing by Stirling Bridge, located at the spot where the famous battle took place between the Scots and the English.
Next on our tour was The Hermitage, a protected site near Dunkeld. It's located in Craigvinean Forest and includes some of the tallest Douglas firs to be found. One of them holds the UK record at 200 feet. A short 1 km walk from the parking lot takes you to Ossian's Hall, a folly built by the Duke of Atholl in 1757. What you notice about the woods here is that they are similar to those found in Canada's wilds, but somewhat different. There's more moss and lichen covering the trees and pretty much everything else. Branches are a bit more curvy and gnarly and there is overall less foliage layering the ground than the forest paths in Ontario's conservation areas.
After our brief visit here, we hopped back on the bus and continued through the countryside to Pitlochry, a popular resort town in Victorian times and now a tourist spot for a tea, lunch or shopping for mementos. Our lunch recommendation is McKay's Bar & Restaurant for the fish and chips.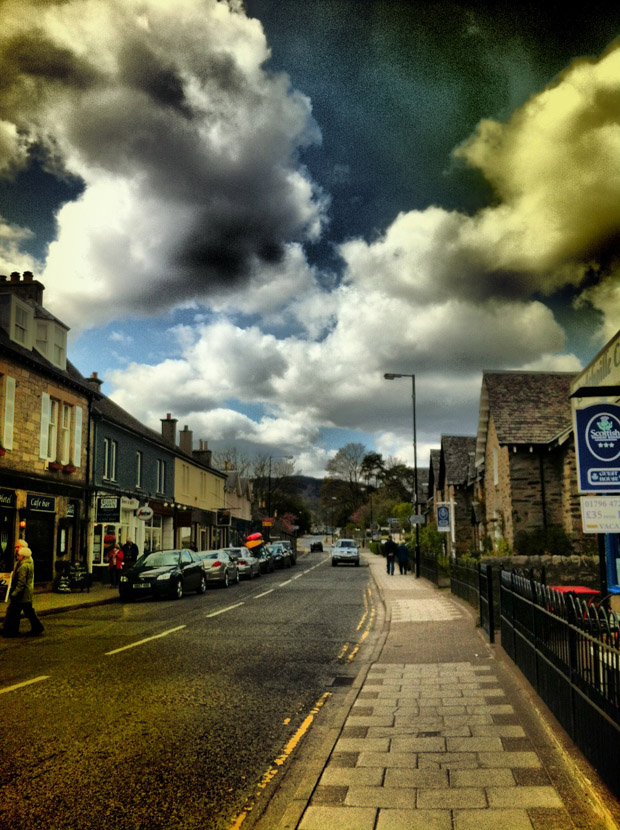 The next part of our tour took us through the huge Cairgorms National Park. It was here that we started to see larger hills and mountains… truly the Highlands!
The destination for our next stop was Culloden, the famous battlefield where the final Jacobite stand against the British took place in 1745. Just as our tour bus was making its way to the visitor centre, Mother Nature decided to show us how temperamental Scottish weather can be. We had chilly winds, rain and snow all coming down at the same time in a force that made it difficult to get outside. As soon as it came, it disappeared. I quickly got outside to take in the scene before me – a vast field before me and a sad feeling encompassing me as I thought of how many lives were needlessly taken. Culloden is considered to be one of the most haunted battlefields in the UK.
Our final stop for the day was Drumnadrochit, the small village on the shores of Loch Ness. It's a tourist spot with several small hotels, inns and bed & breakfasts located in and around the village. It's location is close to Urquhart Castle, one of the most iconic when it comes to photos of the Scottish landscape.
We stayed at the Fiddler's bed and breakfast, which is part of the award-winning Scotch Malt Whiskey bar and restaurant of the same name, across the road. Our accommodations were in an authentically cold stone house, with a huge down-filled comforter to keep us warm in the 5 C room temperatures.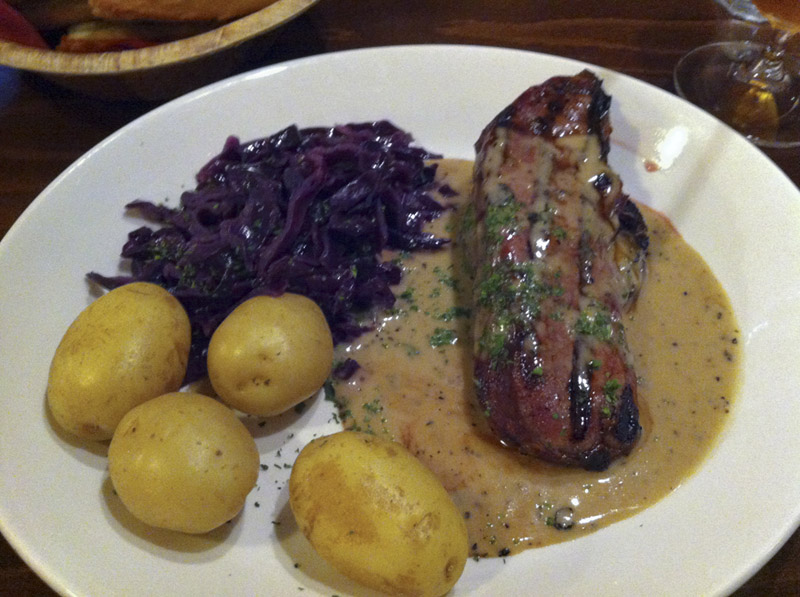 We were very thankful to Bob, our tour bus driver, for quickly arranging our dinner at Fiddlers – we managed to sneak in a table for two despite it being extremely busy.
We also did a triple tasting of three whiskies for about a £8.95 (Three Older Expressions for £13.95). I really enjoyed my Glenfiddich and Glenfarclas.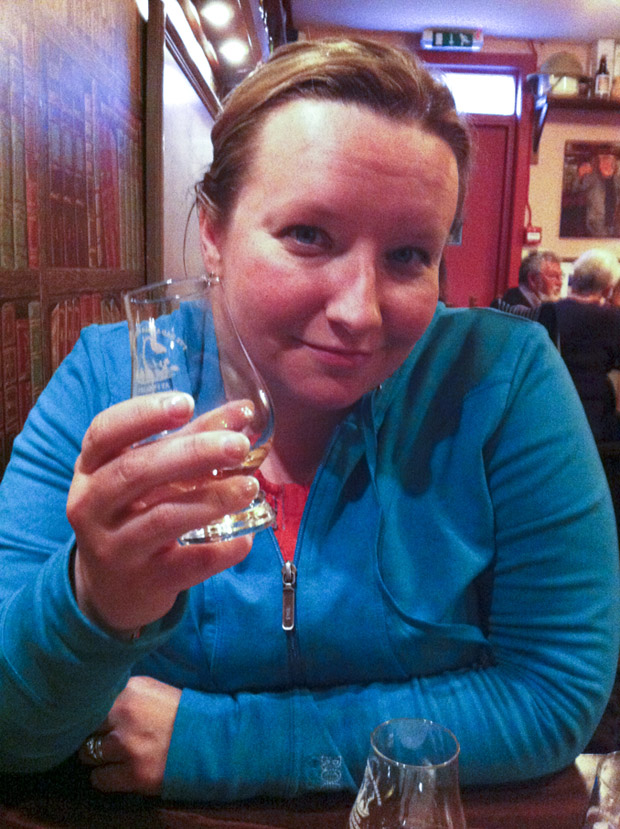 It was a great way to end off the evening, with a quick stumble across the road to our cozy room and a good night's rest before starting Day Two of our bus tour.
The bus tour from Edinburgh to Loch Ness lasted approximately 12 hours with many stops along the way. A tip for anybody travelling via a similar bus tour during the spring months, bring warm clothing for layering! It can be chilly depending where you stop. A small travel umbrella is a must.