Chances are if you are climbing up the Kenilworth Stairs up to the Niagara Escarpment in Hamilton, Ontario, you have at least two or three runners working up a sweat running up and down the stairs as well. The Hamilton Escarpment Rail Trail is one of the most popular spots in this city for people walking and exercising.
A Workout Via Stairs
At 228 stairs, the Kenilworth Stairs give you a great workout while also offering wonderful views of Hamilton. The staircase up is split into two sections. It's great to have a moment to catch your breath before continuing up.
A dedicated off-road hiking and cycling trail, the Hamilton Escarpment Rail Trail is a natural oasis.
Trail entrances above the mountain are located at Arbour Road (Albion Falls parking lot), Limeridge Road East and Mohawk Road East (just east of Mountain Brow Blvd.). The trail follows the former CN right-of-way along the escarpment, crosses over the Kenilworth Access, then continues to Wentworth Street South (near the bottom of the Wentworth Street stairs). Upon crossing Wentworth Street South, the trail continues through the lower city ending in Corktown Park located near Ferguson Avenue South and Young Street. The section of the trail from Albion Falls parking lot to Wentworth Street South has a tar and chip surface. At Wentworth Street South, the trail changes and becomes an asphalt surface.
It's several kilometres long, and in spots has part of the Bruce Trail criss-crossing it.
Bring your camera for some great shots of the city and nature along the way.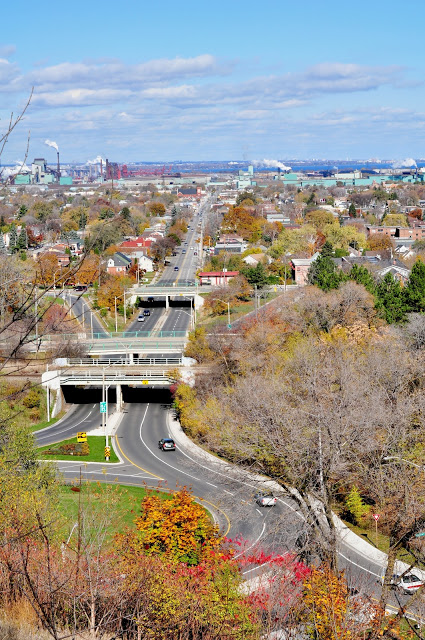 NOTE: Recently there were reports of assaults on the trail. It's always important to be safe on ANY trail. We've always made sure to hike together for safety purposes. An extra set of eyes is better than one. Two people on a trail are better than one. Keep your eyes open to others on the trail and their behaviour. If you see somebody eyeing you or following you, take measures to let them know you are on to them and get to a safe area with more people around you.
Have you checked out the Hamilton Escarpment Rail Trail?